Lead-Line mouthpieces are designs comparable to those used at some point in the careers of some of the worlds greatest lead trumpet players. Once analyzed the misconception that all "lead" mouthpiece are small and tight becomes false. When a player has developed the proper playing technique, any mouthpiece that player is comfortable with, is capable of becoming  a "lead" mouthpiece. While a shallower cup can enhance the upper register it is by no means mandatory. The player is the key to the sound production and quality. The mouthpiece only helps you be the best you can be.  This line of mouthpieces vary in all dimensions. Rim diameters, and shapes. Cup shapes and depths. Throat diameters, and backbore shapes. Below is a legend, and also a chart of relivant dimensions for comparison. Also view the profile shapes on the MPV ( Mouthpiece Profile Viewer) page.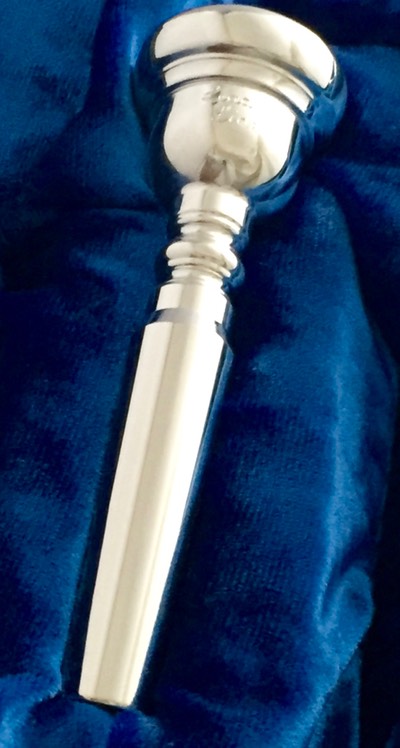 The first letter in mouthpiece designation represents the inner rim diameters, which are organized from smallest to largest beginning with the letter "A" through "J". The point at which inner diameter is measured can also be relevant. Our chart below details the distance from the high point of the rim where we have measured. Each mouthpiece is different because we measure at the point where the rim contour changes or blends into the cup
A= less than .5700" inner diameter
B= at least .5700" inner diameter
C= at least .5800" inner diameter
D= at least .5900" inner diameter
E= at least .6000" inner diameter
F= at least .6100" inner diameter
G= at least .6200" inner diameter
H= at least .6300" inner diameter
I= at least .6400" inner diameter
J= at least .6500" inner diameter
The number following represents bite radius which can effect how small a rim feels as well as effect articulation.  In general terms, the shaprper the bite (small radius ) the better articulation, but with the trade off, that rounded rims favor flexibility. Our bite radius begin with 5 and go through 9  
5= at least .050" radius
6= at least .060" radius
7= at least .070" radius
8= at least .080" radius
9= .090" radius or above
The next letter corresponds to cup depth. The chart below lists the depth at which a 3/8' diameter ball touches the cup of the mouthpiece "A" being the shallowest, and "G" being the deepest. 
Throat sizes vary from #30 drill size to #24 drill size. throat sizes are marked just under the bowl of the mouthpiece.We stock our mouthpieces in the throat size listed but can alter any per request.
#30 = .128"
#29 = .136"
#28 = .1405"
#27 = .144"
#26 = .147"
#25 = .149"
#24 = .152"
#23 = .154"
#22 = .157"
The backbore designations are meaningful to manufacture and for general comparison knowledge. 
"L"  =  The "L" Lead backbore is our tightest backbore. For those who only play in the upper registers. High compression backbore with focused sound. Great projection. 
"C"  =  "C" Commercial backbore has great highs and full bodied core to the sound. Freer blowing than most commercial backbores. 
"S"  =  "S" Studio is designed for playing in every circumstance. Will blend with sections in concert, symphonic, chamber work as well as jazz. Great all-around backbore
"P"  =  "P" Philharmonic has that dark free blowing backbore that orchestra directors love to hear. Blends well within sections.
"2" = Bright commercial sound
"2S" = Bright focused efficient commercial sound, 
"6" = Bright edgy sound quality, used with shallow cup designs
"8" = Rich sound, free blowing
"9" = Focused, bright sound qualityThe data chart below will give numbers for comparison details and our Lead-Line Profile Viewer will allow you to compare actual rim-cup profile shapes.
"B" = Proprietary to one specific mouthpiece
"D" = Proprietary to one specific mouthpiece
"G" = Free blowing with a full sound.
"G2" = Same characteristics as G but not as deep, tighter blow 
"T" = Open commercial sound
| Model | Compare | High | Inner | Blend | Bite | Cup | Drill | Back- | Length |
| --- | --- | --- | --- | --- | --- | --- | --- | --- | --- |
| Name | to | Point | Ø | Depth | radius | Depth | # | bore | |
| A9A-9-L | Manley | .8100" | .5328" | .0897" | .118" | .2236" | #29 | L | 3.5" |
| B7C-9-B | Brisbois | .8064" | .5756" | .0586" | .0793" | .2433" | #29 | B | 3.26" |
| C8C-8-C | Chase | .8140" | .5898" | .0719" | .0837" | .2421" | #28 | C | 3.5" |
| D5B-8-C | Stahl | .8142" | .5970" | .0722" | .0580" | .2340" | #28 | C | 3.455" |
| D8B-7-C | Ingram | .7840" | .5936" | .0745" | .0870" | .2387" | #27 | C | 3.455" |
| E7A-8-T | Trigg | .7902" | .6056" | .0632" | .0730" | .2202" | #28 | T | 3.455" |
| F5B-0-D | Delibero | .8220" | .6198" | .0851" | .0530" | .2350" | #30 | D | 3.5" |
| F5BF-7-T | Ehlen | .8050" | .6128" | .0604" | .0550" | .2320" | #27 | T | 3.41" |
| F6A-4-G | BL4 | .8052" | .6108" | .0748" | .066" | .227" | #24 | G | 3.165" |
| F6C-0-L | Falcone | .8062" | .6118" | .060" | .065" | .246" | #30 | L | 3.46" |
| F6E-8-C | Bergeron | .7910" | .6178" | .0631" | .069" | .2672" | #28 | C | 3.465" |
| F6G-8-C | Shew 2 | .7946" | .6108" | .0709" | .062" | .2884" | #28 | C | 3.455" |
| F8C-8-2 | Shear | .8196" | .6192" | .0607" | .080" | .2415" | #28 | 2S | 3.5" |
| G4B-8-C | Nicholson | .8196" | .6212" | .0791" | .0462" | .2328" | #28 | C | 3.455" |
| G5F-7-G2 | 14A4A | .8122" | .6238" | .0735" | .055" | .2796" | #27 | G2 | 3.455" |
| G6A-8-2S | Shew 1 | .7914 " | .6218" | .0575" | .065" | .2295" | #28 | 2S | 3.455" |
| G6D-6-G | Biviano | .8112" | .6228" | .0734" | .0605" | .2551" | #26 | G | 3.4" |
| G6H-7-T | Baptist | .8418" | .6232" | .0938" | .0692" | .2932" | #27 | T | 3.455" |
| G7B-8-2 | Manthey | .8390" | .6206" | .1005" | .0794" | .2362" | #28 | 2 | 3.5" |
| G7C-7-L | Harner | .8084" | .6208" | .0614" | .075" | .243" | #27 | L | 3.5" |
| H5H-8-2 | Grant | .8138" | .6354" | .0613" | .055" | .2918" | #28 | 2 | 3.5" |
| I5E-8-T | Vizzutti | .8194" | .6454" | .0536" | .055" | .2616" | #28 | T | 3.455" |
| J5F-7-2 | Davis | .8142" | .6598" | .0534" | .051" | .2770" | #27 | 2 | 3.437" |
| J7C-6-9 | Findley | .8436" | .6532" | .0522" | .0703" | .2492" | #26 | 9 | 3.5" |